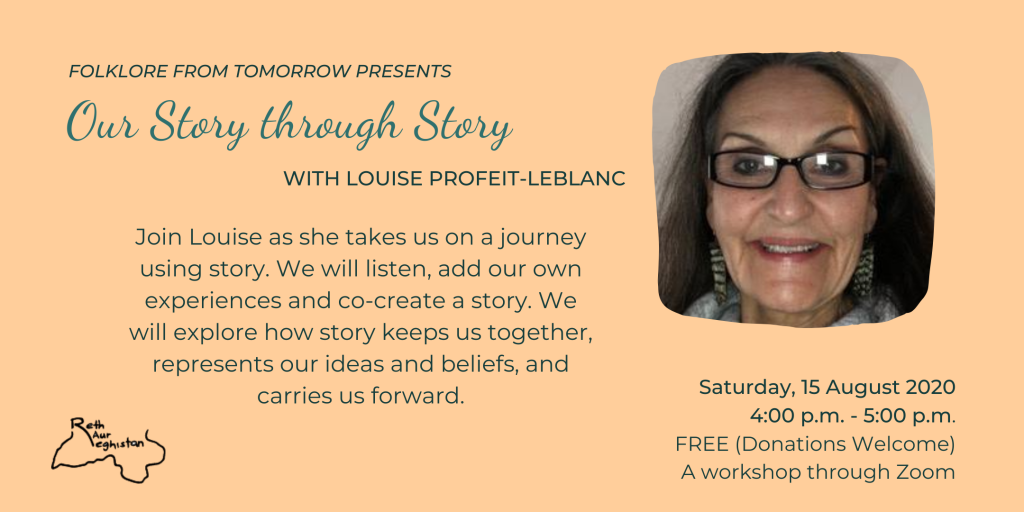 Reth Aur Reghistan presents a virtual storytelling workshop with Traditional Storyteller, Louise Profeit-LeBlanc. Louise is from the Nacho Nyak Dun First Nation of the Yukon Territory. "Live your life like a story!" was the wisdom shared with her by mentor/teacher, Elder, Angela Sidney from Tagish, Yukon. Louise aspires to uphold this practice in her everyday life, now retired and able to be a full time storyteller and art practitioner she makes it her full time practice sharing stories and teaching the importance of oral traditions from a Traditional Indigenous perspective.
Join Louise as she takes us on a journey using story. We will listen, add our own experiences and co-create a story. We will explore how story keeps us together, represents our ideas and beliefs, and carries us forward.
About Louise
Louise has been committed to the cultural and artistic heritage of her people for over 30 years. This includes being cofounder of two seminal organizations of the Yukon: the Yukon International Storytelling Festival and the Society of Yukon Artists of Native Ancestry. Both of these organizations helped to inspire an artistic revival and recognition of Indigenous art in the territory while laying a strong foundation for further advancement and evolution of all Indigenous art practices in the North.
Before moving to southern Canada in 2002, Louise worked for several years as the Yukon Native Heritage advisor for the Yukon Government, recording traditional stories relative to Yukon geographical place names. It was through this work of recording original place names in 8 dialects of all the regions of the territory that she was to discover stories associated with traditional activities where her people harvested and utilized the land; places that held power-"Sacred Places". She pays tribute to the many Elders she was privileged to work with for over a decade, ensuring these precious stories were captured for future generations.
Signing Up
FREE – Register on Eventbrite (limited to 8 participants)
We have limited the group size to 8 participants to closely replicate an in-person workshop and have active participation, communication, and collaboration.
NOTE: This workshop is only open for Ottawa residents. If you live outside of Ottawa and would like to participate, send us a message and we will keep you updated on future workshops.
Folklore from Tomorrow is generously funded by The City of Ottawa, which resides on the traditional unceded and unsurrended territory of the Algonquin and Anishnabek people.