An Evening of Storytelling
August 21, 2020, via Facebook Live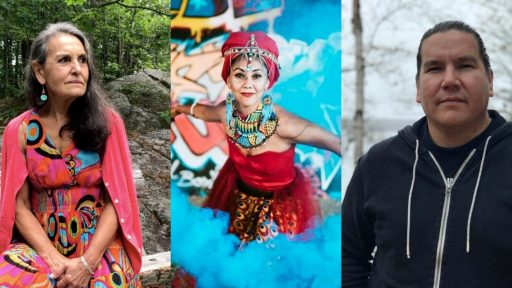 On an Evening of Storytelling, we head stories from three storytellers: Louise Profeit-LeBlanc, Waubgeshig Rice, and Jacqui du Toit. Although Reth aur Reghistan focuses on stories from Pakistan, we feel it is equally important to listen to stories from the land we are settled on.
If you missed the live virtual event, or want to revisit the stories, take a listen below!
Louise Profeit-LeBlanc
Louise is from the Nacho Nyak Dun First Nation of the Yukon Territory, and has been committed to the cultural and artistic heritage of her people for over 30 years. This includes being cofounder of two seminal organizations of the Yukon: the Yukon International Storytelling Festival and the Society of Yukon Artists of Native Ancestry. Louise worked for over eleven years to help advance Aboriginal art in Canada through her position at Canada Council for the Arts, where she served coordinator for the Aboriginal Arts Office, in Strategic Initiatives. She pays tribute to the many Elders she was privileged to work with for over a decade, ensuring these precious stories were captured for future generations.
Waubgeshig Rice
Waubgeshig Rice is an author and journalist from Wasauksing First Nation on Georgian Bay. He has written three fiction titles, and his short stories and essays have been published in numerous anthologies. His most recent novel, Moon of the Crusted Snow, was published in 2018 and became a national bestseller. He spent the bulk of his journalism career at CBC, most recently as host of Up North, the afternoon radio program for northern Ontario. He lives in Sudbury with his wife and sons. Follow Waubgeshig on Facebook, Twitter, and Instagram.
Jacqui du Toit
Jacqui du Toit is a multi-award-winning international storyteller, actor, dancer and writer. Jacqui has performed with Ottawa Little Theatre, Rock the Arts children's puppet company, the Niyamah Collective, and Ottawa StoryTellers. Jacqui has her degree in Theatre and Performance from the University of Cape Town, South Africa and is bilingual in English and Afrikaans. Jacqui is co-owner of The Origin Arts Community Centre, Creative Director and Storyteller at Generation 8 Performance and serves on the Board of Directors for GCTC (2017 – present). Follow Jacqui on Facebook and Instagram.
An Evening of Storytelling was generously funded by the City of Ottawa's Diversity in the Arts Fund.