Jumblies Artists-in-Residence
We spent two weeks as artists-in-residence at The Ground Floor at Jumblies Theatre and Arts. We had workshops, drop-in art-making sessions, and a closing exhibition in the space between June 5th and June 16th.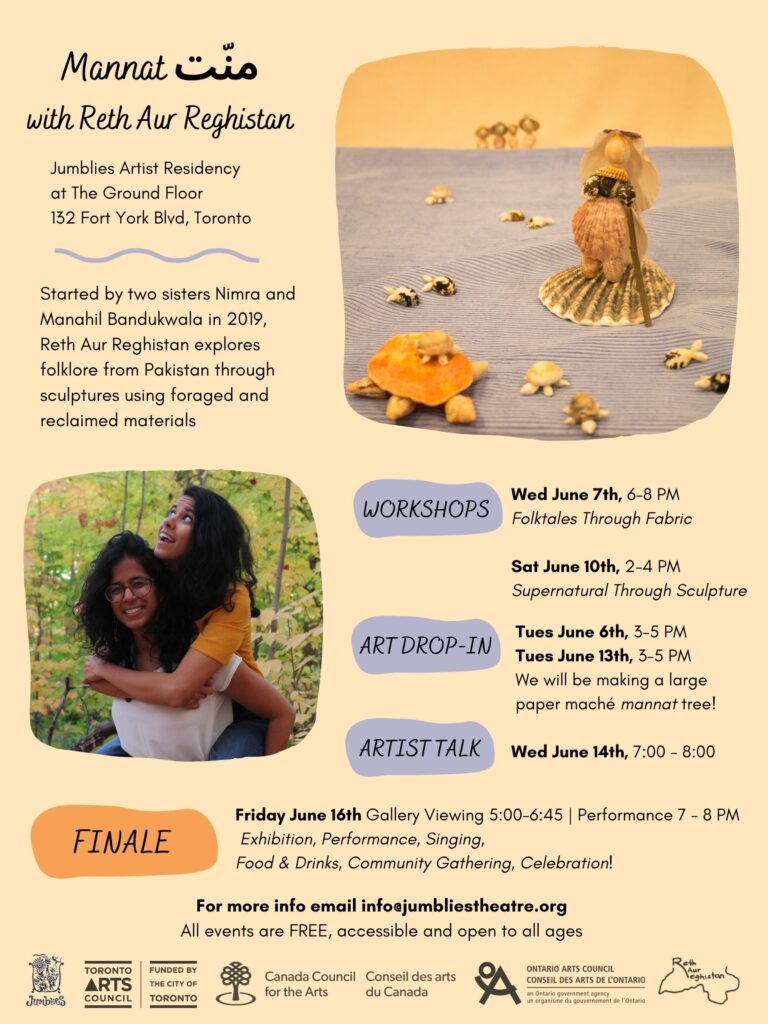 Our residency was around the theme of Mannat منّت, a word with Persian and Sanskrit roots that roughly signifies a wish, intention, or hope in the Urdu language. A mannat is a coloured fabric that connects the past to the future. It is a symbolic gesture of exchange that involves tying colourful strips of cloth to trees near sacred places of Sindh. 
Mannat grew out of the curiosity of two sisters wanting to learn about the folklore from Karachi and Sindh province in Pakistan. We launched a research project and explored these stories through poetry and sculpture. Through foraged and reclaimed materials, such as pieces from their dadi's saari, beads from a broken tasbeeh, dried flowers, and shells, we bring to life characters and scenes from these ancestral tales. We embrace memory as our creative medium and use pieces from the past to tell stories of the present.
During our residency events, we brought this idea of mannat to participants and invited them to reflect on their own hopes, wishes, and prayers. The centerpiece of our residency was a life-sized Mannat tree.
We gratefully acknowledge support from the Canada Council for the Arts and the Ontario Arts Council and of course, the team at Jumblies for making this residency possible.