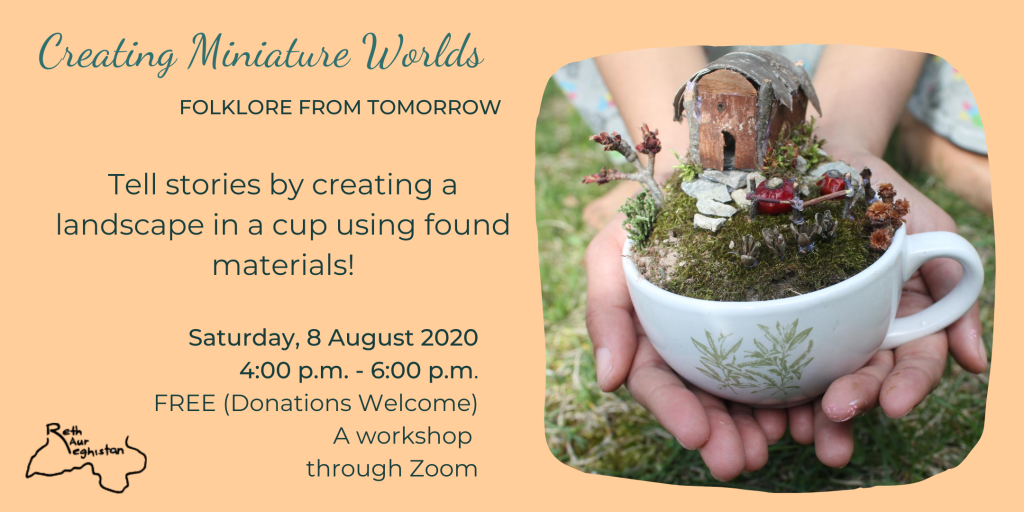 Join us for a hands-on workshop on Zoom, where we use everyday found objects to tell a story!
In this two hour workshop, we will create miniature worlds in a teacup based on a landscape or story that is meaningful using found and upcycled materials.
We will explore ways to recreate and tell stories. We will look at how various materials such as moss, twigs, bark, cloth, newspaper etc. can be repurposed and reimagined to create a narrative. We will share our creations and stories with others followed by a discussion about folklore and visual storytelling.
As this workshop will take place virtually, you will have to gather a few materials in advance to prepare. Most materials can be gathered on a hike or walk in your neighbourhood.
Signing Up
FREE – Register on Eventbrite (limited to 8 participants)
We have limited the group size to closely replicate an in-person workshop and have active participation, communication, and collaboration. If the cost or structure is a barrier for you, let us know and we are happy to accommodate.
NOTE: This workshop is only open for Ottawa residents! If you live outside of Ottawa and would like to participate, send us a message and we will keep you updated on future workshops.
Folklore from Tomorrow is generously funded by The City of Ottawa, which resides on the traditional unceded and unsurrended territory of the Algonquin and Anishnabek people.
Facilitators
Manahil Bandukwala is a poet, writer, editor, and visual artist. She is on the editorial team of Canthius, a feminist literary and arts magazine, and is the Coordinating Editor for Arc Poetry Magazine. She is a member of VII, an Ottawa-based collective that writes poetry together. Her favourite way of making art is through collaborations with other creatives.
Nimra Bandukwala is a maker, an artist, an educator, and a community facilitator based in Mississauga. She has led workshops and community-engaged art projects for youth, adults, and children with disabilities, and currently works with children on the autism spectrum. She is interested in using art to tell stories and create spaces to have meaningful conversation.