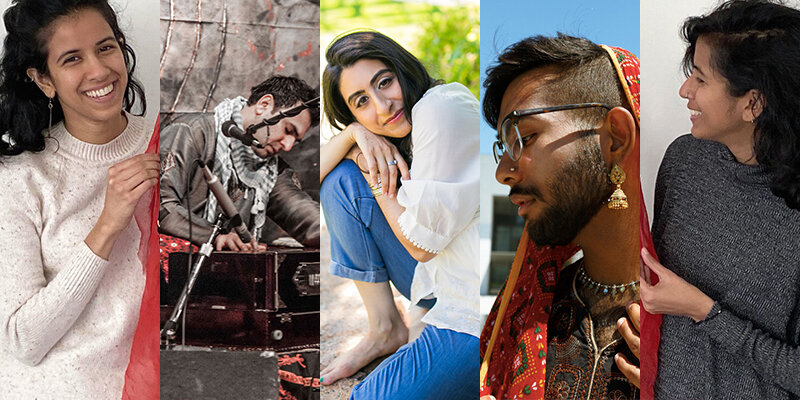 The second instalment of Sufi Poets Series: A Glimpse of the Beloved, celebrates the poetry and legacy of sixteenth century Sufi poet, Shah Abdul Latif of Bhitai, also known as the poet of Sindh. Join us for an evening of music and poetry, as well as a multimedia presentation weaving in visual art, poetry, and photography capturing the folklore of Sindh, presented by sisters Nimra and Manahil Bandukwala.
English translations sourced from "Shah Abdul Latif: Seeking the Beloved" by Anju Makhija and Hari Dilgir.
Artists
Professional singer and former lead singer of Nexus Band, Tariq Hameed is known for his heart rendering musical interpretations of the great Sufi poets, from Bulleh Shah to Faiz.
Nimra Bandukwala, community facilitator and artist, and Manahil Bandukwala, writer and poet, are Pakistan-Canadian sisters who have collaborated on the literary arts project, Reth aur Reghistan, in which they collected folklore from Sindh, Pakistan to created sculpture and poetry based on these stories and their experiences. Nimra also facilitates sensory-based workshops with neurodiverse children and adults in Mississauga, integrating her interests in well-being and creative expression. Her work has been published in several publications across Canada, including Existere, Nuance, and Living Hyphen. Manahil is the author of two chapbooks, Paper Doll (2019) and Pipe Rose (2018). She is on the editorial team of Canthius, a feminist literary magazine, and is the Coordinating Editor for Arc Poetry Magazine. She was longlisted for the 2019 CBC Poetry Prize, was the 2019 winner of Room magazine's Emerging Writer Award.
A daughter of the Indus River and the Sindhu people, Kanwal Rahim often weaves dance, storytelling and humour into all her artistic expressions. She works and plays at the intersection of theatre, sustainable community-building and meditative arts where she strives to understand how stories shape human relationships, resilience and r/evolutions. She is a graduate of Second City's program in Improvisational Comedy and Spoken Word at OCAD and has studied various Middle Eastern and Central Asian dance traditions.
Zain Bandali is an unapologetic poet that writes on themes related to Islamic mysticism, queerness, diasporas, and where they interact. He is 22 years old and takes pride in being a Shia Ismaili Muslim of Indo-Tanzanian heritage living in Canada. Zain is the founder of QTPOC KW, a grassroots community group for racialized queer and trans students in Waterloo Region. He is an avid vegetable gardener but cannot always stomach the chilli peppers he grows. Presented as a part of Small World Asian Music Series
Presented as a part of Small World Asian Music Series
Sufi Poets Series: A Glimpse of the Beloved was cancelled due to COVID-19.