The Music and Stories of Bhit Shah
Written by Nimra Bandukwala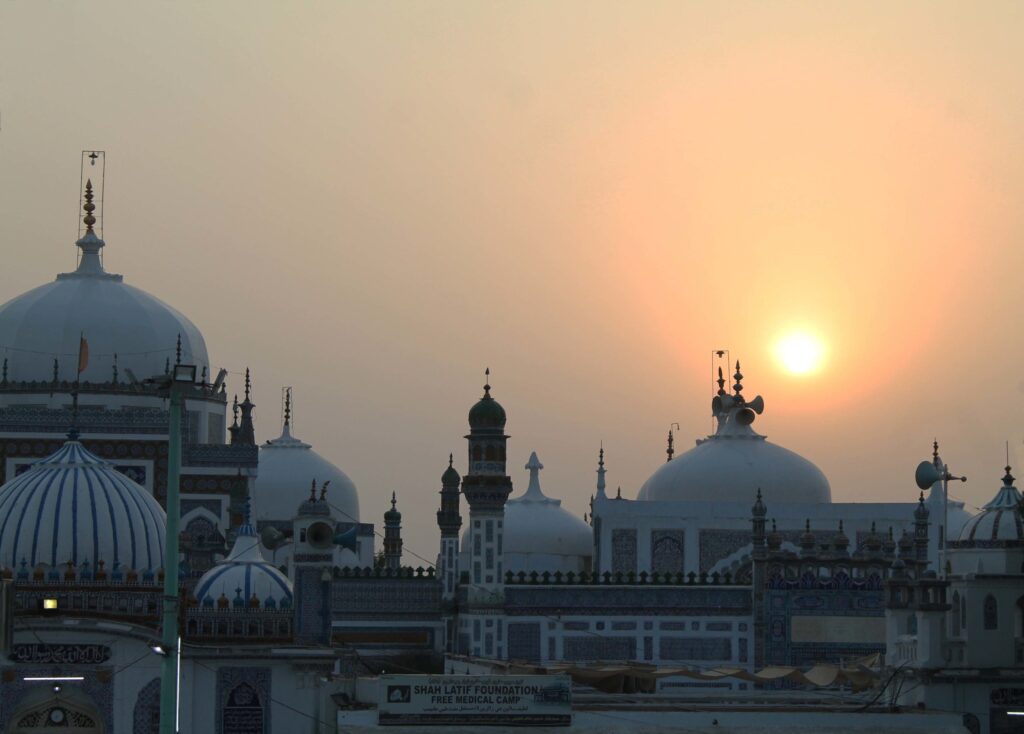 Interior Sindh has long been notorious in the minds of urban Karachi dwellers as a place that is "dangerous", "undeveloped", and "not suitable for two young women to travel to." We had been warned by a friend whose grandmother's brother had been kidnapped in interior Sindh a few decades ago. Other friends suggested taking a male friend along. However, from those Karachiites who had themselves travelled to interior Sindh, we received practical advice and reassurance of the utter hospitality of Sindhi people.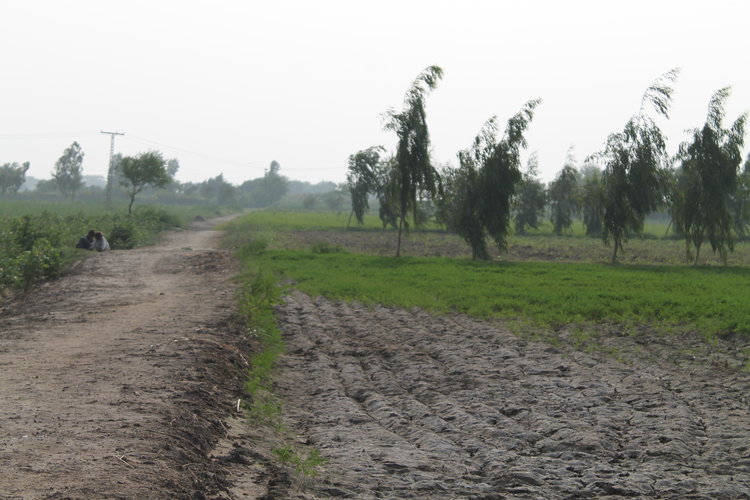 After arranging the logistics of the rental car, reaching out to the contacts we would meet there, and inviting a male friend to come along (who was assumed to be our brother, manager, or cousin), we drove three and a half hours out of Karachi. We passed through fields of wheat, mangoes, cotton and sugarcane. Our first stop was Bhit Shah, a town named for the large mounds called "bhit" in Sindhi and for being the location of the shrine of Shah Abdul Latif Bhittai.
Bhittai was a Sindhi Sufi poet, mystic, and saint of the 18th century, renowned for his iconic collection of poetry, Shah Jo Risalo. His shrine is considered one of the most important shrines in Sindh, and along with Muslims, Hindu communities also frequent the shrine. The Risalo was written in ancient Sindhi, however many translations exist in Urdu and English. Some of the famous stories in the Risalo include those of the seven heroines whose stories Bhittai travelled around Sindh to collect and retell through a Sufi lens.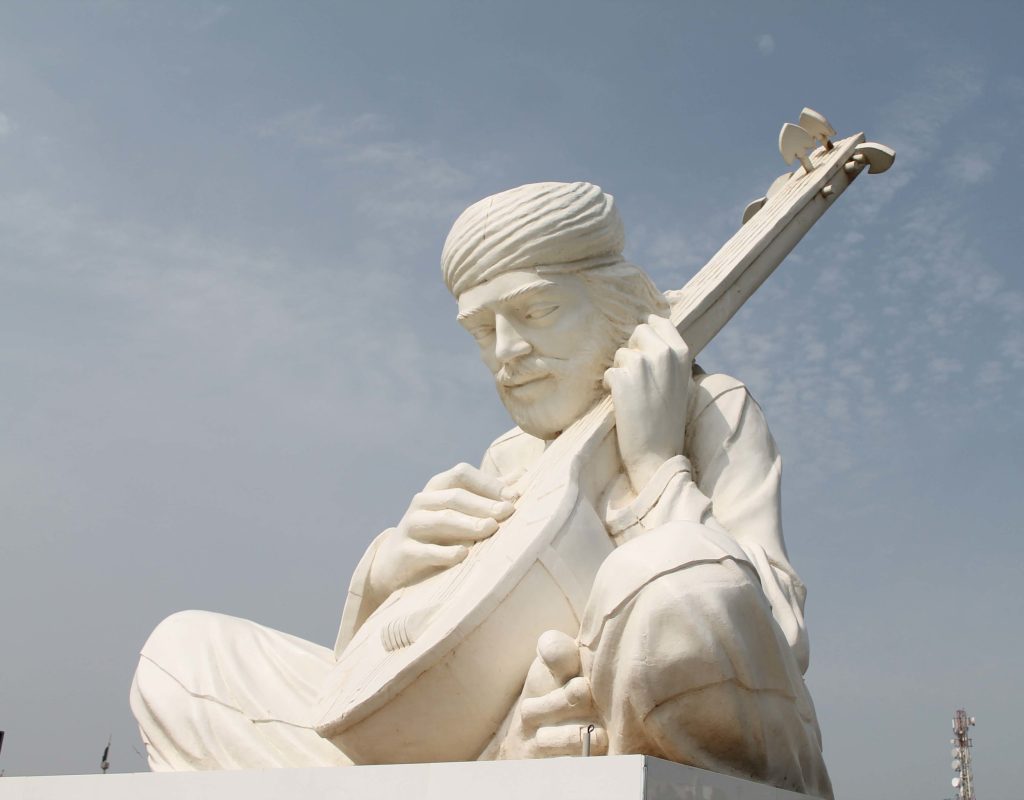 Upon arriving at Bhit Shah, we met Ismail, a faqir of Bhittai's teachings, and a singer of the kalaamat the shrine. Ismail described himself as different from the conventional idea of a faqir, one who gives up all worldly ties in favour of Allah. Instead, his duty involves performing the kalam (Bhittai's verses from the Shah Jo Risalo) every Saturday at the darbar, the shrine of Shah Abdul Latif Bhittai.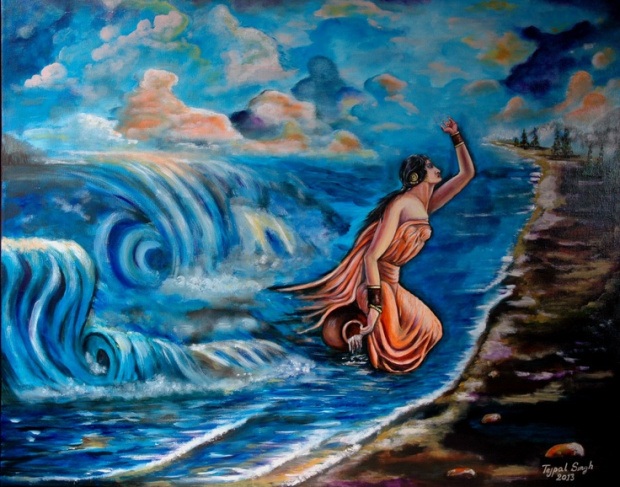 Over a delicious meal of daal chawwaland aam, he talked about Bhittai's Seven Queens, and why the stories carry so much importance. Ismail said, "Shah Sahib ne aurat ki ehmiyat zahir karne ke liye un ke suron me shaamil kya hai" – Bhittai emphasised the perspectives and feelings of the women in his stories so that people would realise their importance.
Ismail used the story of Sohni-Mahiwal to show how Bhittai gave agency and power to women. Sohni fell in love with Mahiwal, but her parents had her married off to another man. Each night, Sohni would swim across the river on a baked clay pot to where Mahiwal lived. One day, Sohni's sister-in-law discovered the tryst, and replaced the baked pot with an unbaked one. The pot disintegrated in the water, and Sohni drowned. Mahiwal, seeing his lover drowning, jumped in the river to save her and also drowned. Their bodies may have been gone, but the lovers' souls were reunited in death.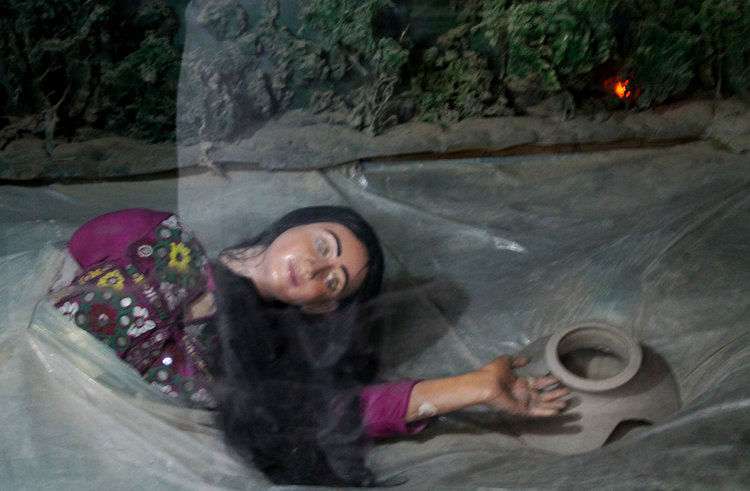 When Sohni was married, no one asked her for her opinion or her choice. She was married to someone else, but she liked Meher (Mahiwal). Shah Sahib's purpose was to say that when you have your daughter married, ask her for her opinion. Whether the person is to her liking or not.

Sohni used to go in complete darkness at night to go meet Meher. This is no ordinary feat, to swim across a river, holding on to a clay pot. Darkness scares the ordinary man, but Sohni goes on the night when the moon is not in the sky. In Islam, we don't even have a word for this night, which is the 29th of the lunar calendar. In complete darkness, when you can't see the moon – these are the types of nights when Sohni goes to meet Meher. If I don't have light, how do I go? But Sohni is going. This is such brave work, to go in the dark without light, without knowing the way, without knowing what is in the water, but Sohni goes. Sohni is very brave-hearted, very strong. Our mind thinks she is weak, but Shah Sahib says that if there is strength in this world, it is a woman.

From our interview with Ismail, translated from Urdu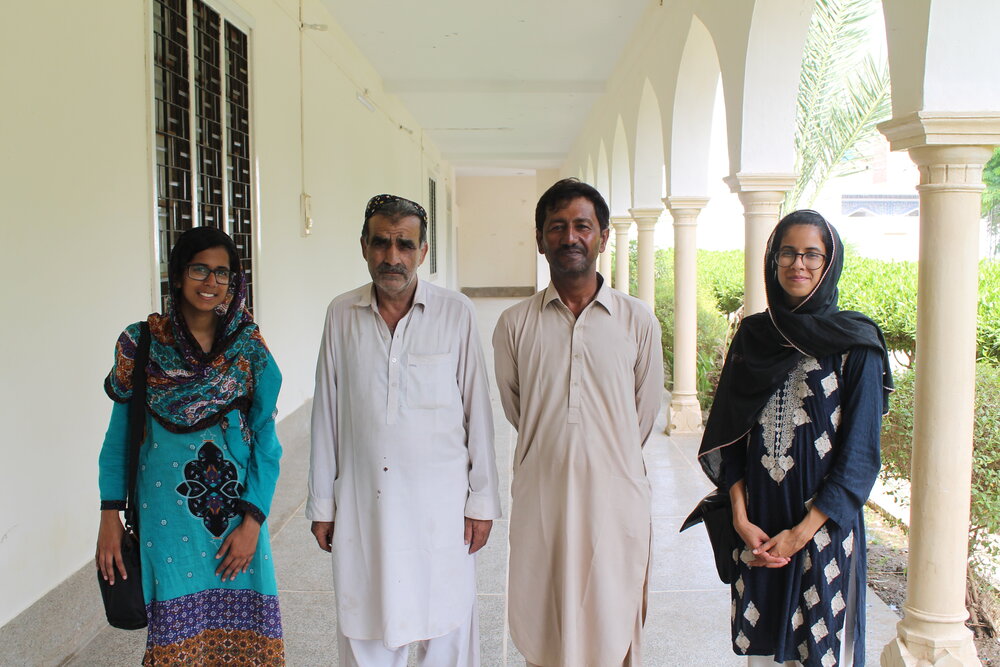 We asked Ismail about the symbolic translations of Bhittai's work. He explained how marriage in one's lifetime is a short relationship, typically spanning forty to fifty years. But after one dies, Ismail says, "humara rishta ab qabar se hai" – our relationship is with our grave. Bhittai wrote a lot about death in the Risalo – many of the heroines and heroes of the stories die at the end. The body dies, but the soul does not. The soul is something we cannot see with our eyes, but on Thursday nights, the soul leaves the grave and visits its loved ones. Ismail described Thursday nights at the darbar as the busiest, most emotionally charged nights because of the significance of the soul's appearance.
When we asked him about technology and modernity, and whether it is influencing the work that Bhittai's followers are doing, he went on to describe how Bhittai has prophesied a global village where the kalamwould be heard across the world. Ismail described Bhittai's words as "insaniyat ka message hai – poori world me dena chahiya" – this is a message for humanity. It must be spread throughout the world." Technology has been instrumental in making this possible.
Technology can be used for good purposes and bad purposes. It's is just one thing. For example, if I send something to you via TCS, how long will it take to reach? One week. How long will a flight take? One day. In our minds, we see planes as something fast. But if I sit here and send you a message, how long will it take to reach you? This is even faster than a plane.

And who has made this? It's true that our mind is sharp. How you act is in your control, what you choose to do with your mind. The real thing is the mind. A child learns from what they hear in their house. Our kalam is present in our houses, so we learn it. When someone has a computer present in their house, then learning it is easy, but when people don't have the technology, learning it is going to be difficult. The real thing is our mind, our thoughts. Our thoughts need to be good.

From our interview with Ismail, translated from Urdu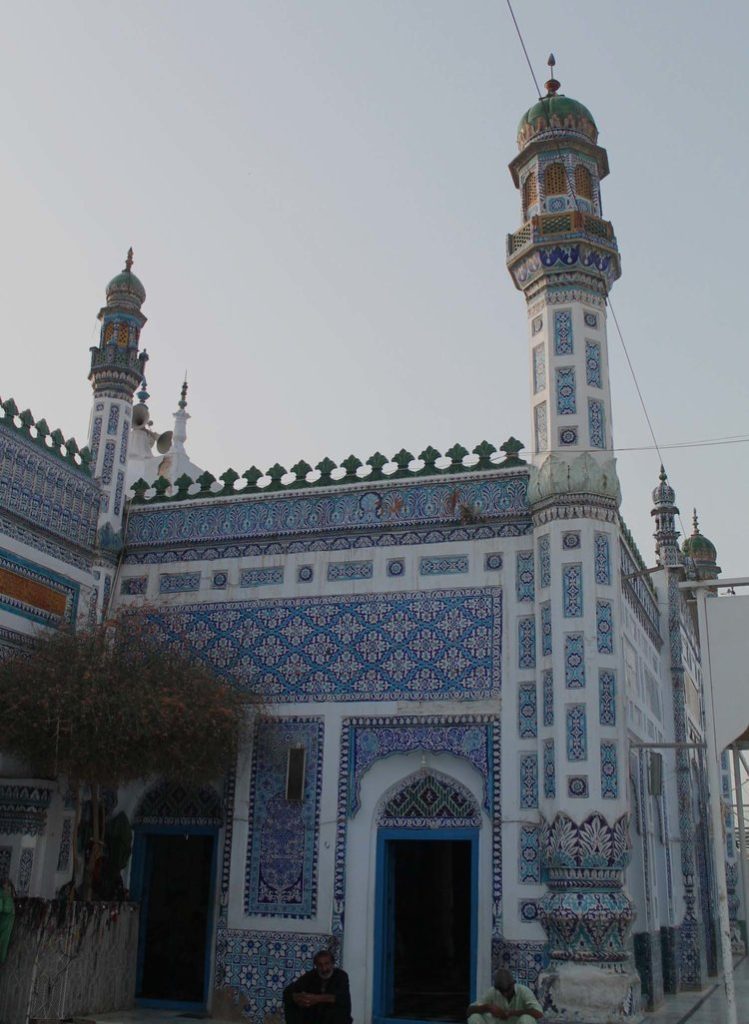 In this way, the teachings of Bhittai and his followers, and the power of their music, can be transmitted to people all over the world through video and film. The faqirsperform at music festivals across Pakistan as well as internationally, bringing with it Bhittai's message of egalitarianism.
We then visited the shrine, taking off our shoes and feeling the intensity of the marbled floor that had absorbed the afternoon heat. The walls and ceilings were covered in intricate kashigariwork – the blue and white painted tile. Shah Abdul Latif Bhittai's grave lay within a carved and painted wooden structure. A man sat in the corner counting prayer beads, while a woman kissed the shrine. The room held an aura of reverence as people travelled from far and near to pay their respects to this saint.
Ismail then showed us the original version of Bhittai's Risalo, encased in a glass box, the very book that brought alive the stories of several heroines from Sindh and Punjab including Sasui-Punhoon, Umar-Marvi, and Moomal-Rano. A book whose surs (verses) were sung several times a day by faqirs of the shrine, and which we proceeded to listen to.
The group of five faqirs, clad in black were playing the damboro (a string instrument)while reciting the verses from the story of Umar-Marvi. Ismail described to us how men sing in falsetto to mimic the women's voices in Bhittai's stories. He also told us about wird and how singers of the kalam vary the pitches of the verses based on their own emotional and spiritual interpretations of the surs.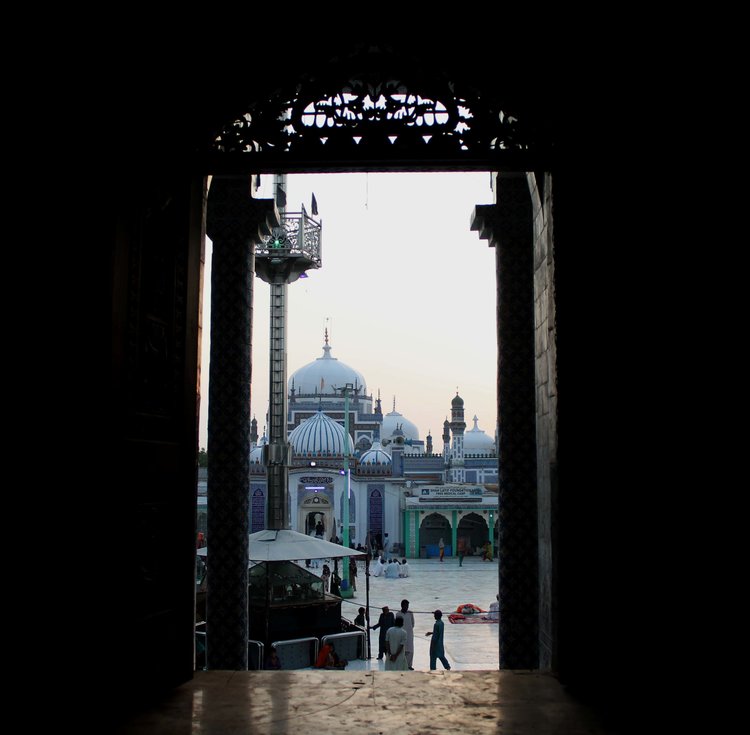 Ismail explained that it is usually those who experience a lot of pain that go into haal, a trance like state where the body starts shaking or moving uncontrollably. As we were preparing for our trip to Bhit Shah, Suhae Abro, a Sindhi dancer, described what she had witnessed at the shrine, where everyone sits together and shares each others energy. When we went to the shrine, we witnessed a woman going into haal. She knelt on the ground with her palms flat, moving her chest and shoulders side to side, her hair whipping around. Suhae told us how at the shrine, "No one ever said "stop it, kafi ho gya." Usually, the moment you cry, people say, "kya ho gya." Over there, it was a normal thing for everyone." At the shrine, the other women helped the woman who was in the haal, either by fixing the dupatta on her head or carrying her child for her.
We spoke with an elder woman who said that she practically lived at the shrine listening to the kalaam, as this gave her zehni sukoon (mental calm). Night vigils took place daily from sunset to sunrise, and she described how she would often stay awake for a few nights just listening to the surs (verses) and absorbing the kalaam (music).
The following evening we witnessed a dhamaal, a variation on Sufi whirling prevalent in Sindh and Pakistan. At Bhit Shah, the dhamaal takes place every day between 6 and 7 p.m. Anyone can come and dance to the beat of the dhol. Ismail took us to the upstairs area where the dhol player sits and showed us how the dhol is prepared for the dhamaal. The drums used that night were called "zee," and were made from animal skin. The drum was heated in front of a brick kiln so the skin would tighten, ensuring the sound was crisp.
We sat behind the perch of the dhol player. The sun set and the dhol beats brought the men, women and children into motion. People entered into a square marked off by black tiles and moved side to side motion to the beat of the drum. There were a couple of people in haal, their bodies shaking, theirs kurtas wet with sweat. A toddler started dancing beside his mother, kept falling over, but would get back up and start moving again.
Our visit to Bhit Shah showed us why folk stories continue to resonate centuries after they start circulating. The stories have an emotional, social, and psychological significance and pull for people such as the old woman we spoke to at the shrine. Even if the details of the stories became blurred, their emotional impact was still strong. We read the stories of Bhittai's Seven Queens before going to Bhit Shah, but after talking to Ismail, talking to the old woman, and seeing the stories shared across communities, we grasped how important these stories are. Folklore lives through music, through dance, through the people who want to keep the figures in the story and their journeys alive.